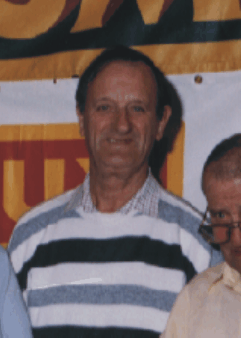 Peter McVeigh - Peter McVeigh, like Steve Crew, was one of life's nice guys. I knew him myself from the very early 1990s when I used to talk to him about quizzes and cricket and things like that, at the Spread Eagle pub quiz night in Darrington on Monday nights (yes, before the FTQL started). Peter played later in the 1990s for the Rustic Arms B team when the Rustics first entered teams in the Five Towns Quiz League. Peter was acknowledged to be one of the best players in the league and I well remember how devastated we all were, including of course his lovely wife Elaine, when he passed away a while after a successful operation in 2001.
As I said at the time in the obituary I wrote for the league at the time, it always seems to happen to the nice guys, and if there was one thing that every single person I have known who met Peter McVeigh agreed upon, it was that Peter McVeigh was one of the nice guys.
Peter McVeigh - died 2000.