OLDE TAVERNERS SHOCK FLANAGAN'S TO LIFT 2019 KNOCKOUT CUP!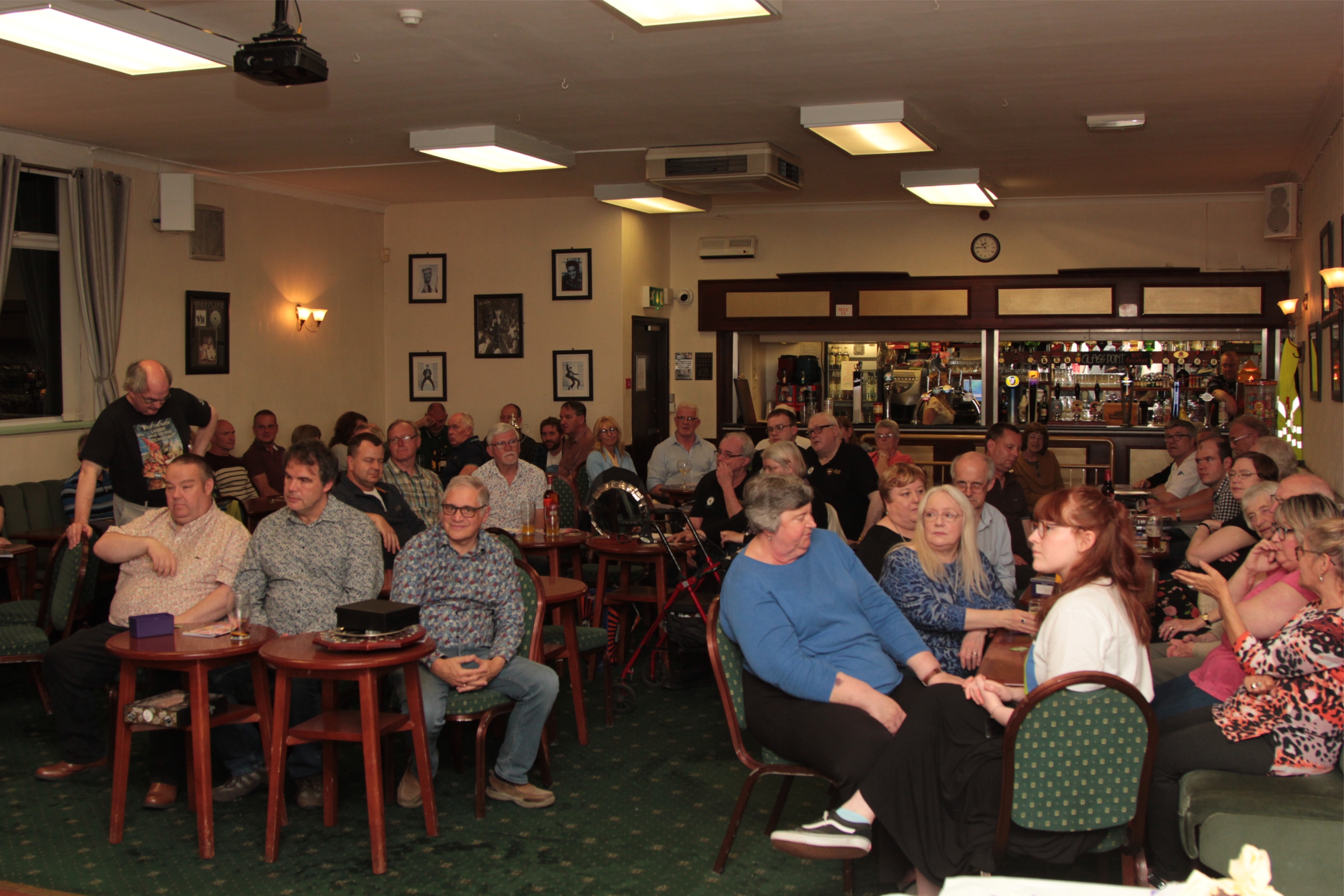 Olde Taverners of Pontefract pulled off one of maybe the surprise results of recent years when they defeated pre-Final favourites Flanagan's Army to win the Five Towns Quiz League's major cup competition the Knockout Cup by a score of 70 points to 68 in one of the closest Finals in the league's recent history at the 2019 Finals' Night at the George V WMC in Glasshoughton, Castleford.
Questions for the evening were read by Diane Hallagan of Wanderers in an unfamiliar role, as she is more used to competing in Finals than officiating. Scoring and walkon music (example - Olde Taverners, the team of teachers, Another Brick in the Wall by Pink Floyd), was supplied by Dave Bill of Redtooth Quiz and the Dudes team.
The Knockout Final started off both closely and slowly, with both teams taking plenty of the allotted time to consider their answers and Flanagan's Army took an early lead, only to be pegged back and lead by only one point at the halfway stage, Round 5. Flanagan's then went into the lead again but after Round 8 with only two to go, the score was all-square at 55-55.Round 9, the penultimate round was then drawn 8-8 and the last round, on the subject of pop music, went 7-5 to Olde Taverners to give them the Knockout Cup for the first time in their history by 70-68 and in process break the fourteen year dominance of the Knockout competition by Wanderers, Top House Officials and Flanagan's Army.
The Knockout Cup Final was preceded by the Plate Final for Knockout Cup first round losers, a derby affair between Vulcan Bombers and Vulcan Mosquitoes and this was won 71-58 by the Mosquitoes (who will be based next season at the Upton Arms after the closure of the RAFA Vulcan Club and the Bombers will be based out of the Carleton Grange Centre).
Special guest for the evening was Steve Cooke of BBC2's Eggheads quiz show who presented the trophies at the end of the night as well as delivering a humorous five minute monologue.
A raffle was held which raised £78 for the league and sales of the Secretary's now traditional satirical Finals' Night programme raised another £39. The Spirit of the Game Award, voted for by league members present, was won for the third year running by League Chair Debby Aspland and the Members' Draw, for which the prize is a full season of free subs next season, was won by Wanderers.
Click here to access the full 2019 Finals' Night photographs